New Black Rock Desert Photo History Book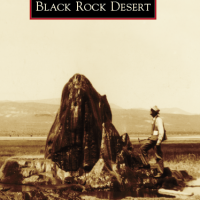 There is a new photo-history book about the Gerlach and Black Rock Desert area from Arcadia Publishing.   The book, titled "Black Rock Desert," is part of Arcadia's Images of America series.   The book covers the period of time from prehistory until 1990.  The thesis of the book is that interesting people have been doing interesting things in the area of many years.
The events that are covered include art from the Lassen Trail; The Winning of Barbara Worth, starring Gary Cooper, in 1926; and a wild horse roundup as documented by Gus Bundy. Also included are recent works of art such as Doobie Lane and Croquet X Machina, which was a croquet game played with trucks were used as mallets on nearly 6-foot croquet balls. Historical images feature the towns of Sulphur and Gerlach, nearby ranches, and the Empire gypsum mine.
The book includes a number of images from Gerlach-area artists such as John Bogard, Cindy Carter, R'Deen Diebold, Tony Diebold and Sunny DeForest.  Many of these images have never been published before. Also included are images from the private collections of residents and visitors as well as images from libraries and museums.
A book release party will be held on Saturday, November 16, 2013 at Bev's Miners Club.  The event will start at 5pm with a potluck at 6pm put on by the F.R.O.G.S.
Michael Sykes wrote the foreword and he will host a book signing party at his bookstore, Floating Island Books, Cedarville, on November 23, 2013 from 4pm until 6pm.
The book is dedicated to Bev Osborn, owner and operator of Bev's Miners Club.  All author proceeds from the book are going to the Gerlach Senior Citizen Center.  The author is Christopher Brooks, a long time visitor to the area who recently purchased property in town.
How To Purchase
Locally, Brooks hopes that the book will be available at Bruno's, the Empire Store and at the Friends of the Black Rock building. (Please buy local!) At the signing, Brooks will give books to his collaborators and have books for sale.  Books will also be available at Michael Sykes' Floating Island Bookstore in Cedarville.   Books may be purchased online at Arcadia Publishing or from Amazon