Indie Press Revolution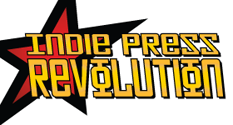 About Us
Indie Press Revolution (IPR) is a network of creator-publishers devoted to bringing you the latest innovations in tabletop roleplaying and story games. Launched December 1, 2004 with seven member-publishes, we've grown to connect more than one hundred small-press tabletop roleplaying and story game companies to retailers on five continents, conventions, and individual customers.
What Is Our Purpose?
IPR is a network of quality creator-publishers. That means we only carry the best of the small press, selling directly to customers and to discerning retailers.
This approach serves two purposes. First, customers know that whatever they order from us meets a certain standard of quality because we selectively recruit the creator-publishers listed on our site. Second, creator-publishers receive a greater portion of a sale on our site than almost anywhere else because we sell direct.
IPR was founded not only as a business venture, but an artistic endeavor as well. Our goal is to provide the right business model, a profitable business model, for creator-publishers, so they can continue publishing their work. We want to establish a community in which creator-publishers can flourish and share their ideas and visions together in a cooperative environment.
IPR is committed to bringing you great products directly from the people who create and publish them. You can help us continue to do this by supporting the creator-publishers on our site and join us in spreading the word.
IPR Brings You the Best
The games IPR carries are built from a foundation of passion and love for the hobby, and screened for quality before we add them to our catalog.
Join us
If you are interested in joining IPR as a publisher or a retailer, please contact IPR and let us know about you!
General Manager Jason Walters
Indie Press Revolution
P.O. Box 247
Gerlach, NV 89412
For deliveries by FedEx or UPS instead use:
Indie Press Revolution
1287 State Route 34
Gerlach, NV 89412