I hear the train a comin'…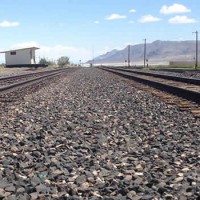 Gerlach was settled in 1906 when Western Pacific came through creating the third and final transcontinental rail line. The railroad traversed the property belonging to Louis Gerlach, setting his livestock company up for easy transportation. The railroad named the supply stop after Gerlach, and it served as a stop until 1953. In 1972, Western Pacific sold the land to the town for $18,000.
Here's a link to the history of the Western Pacific Line.