Home to Burning Man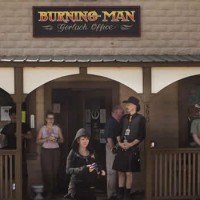 Once a year, tens of thousands of people pass through Gerlach on their way to the annual Burning Man Festival. Burning Man has become an important partner in the Gerlach community and it's economic survival.
The Black Rock Desert has been home to Burning Man since 1990 when the annual event moved from Baker Beach in San Francisco. Over the years the population has grown from less than 100 people to over 60,000 today.
The Burning Man office in Gerlach is opened seasonally from May – October and employs several staff. Additional staff are employed at a year-round production facility located nearby.  Burning Man also hires over 250 people seasonally, July through October to help with festival infrastructure and post-event clean up. Burning Man is the largest Leave No Trace event in the world.
To learn more about Burning Man click here.
Photo by John Curley