Guru Road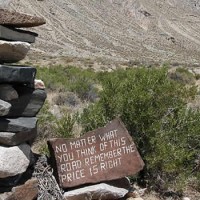 Guru Road, a scenic route that's always open!
Guru Road is a unique, desert-style art installation created by DeWayne "Doobie" Williams in the 80s and 90s during the last 15 years of his life.  Using local stone and other found objects, Doobie crafted tributes to family, friends and local residents. Words of wisdom line the road and there are several large pieces including a weather station, a tribute to Elvis, Aphrodite and the Desert Broadcast System. No trip to Gerlach is truly complete without a visit to Guru Road.
Guru Road is located just north of town on Highway 34 on the left.