Gerlach Race Days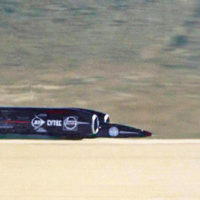 Join us as we celebrate the 20th anniversary of the Land Speed Record in the Black Rock Desert.
Thrust SSC holds the world land speed record, set on October 15 1997, when it achieved a speed of 763 mph and became the first land vehicle to officially break the sound barrier.
It's a weekend of family fun with golf cart races, chili cook-off, car show, live music and more.
Join Team Thrust for a special ravioli dinner on Friday, October 13 at Bruno's. Lodging is limited so make your reservations early. RV dry parking will be available. Stay tuned for details.
---
October 13 – 15, 2017
Celebrating 20 years of the Land Speed Record, set by team Thrust SSC on October 17, 1997
Schedule subject to change, so check back often!
---
Friday, October 13
6:00 pm: Meet the Brits from Team Thrust!  Ravioli Feed and Presentation by the Brits! 
Bruno's. Limited seating. Contact Bruno's for reservations. 775-557-2220.
---
Saturday, October 14
10:00am: Car Show
Watertower park and throughout town
Noon – 3:00pm: Golf Cart Races
Hosted by Flash!
Entry details to come. Limit 20 carts of any shape or form (three wheels OK). Gas and Battery classes.
It's not what you think!

3:00 – 4:00 pm: Open Mic talent with Elizabeth Cadigan
Community Center
4:00 – 8:00 pm: Blue Haven Blues Band
Community Center

4:00 – 8:00 pm:  Annual Gerlach Chili Cook-off !
Community Center. Bring your best pot of Chili at 3pm. $10 entry, door prizes, $1 raffle / $5 gun raffle. For more information, donations or to enter contact Schatzi at 253-208-8970 or 775.557.2614.
---
Sunday, October 15
8:00 – 10:00 am: Gerlach Volunteer Fire Department Pancake Breakfast
Community Center
10:30 am: Kids Race (TBD)
NOON: Awards Ceremony!