Gerlach Race Days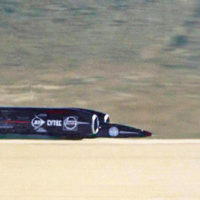 Join us as we celebrate the 20th anniversary of the Land Speed Record in the Black Rock Desert.
Thrust SSC holds the world land speed record, set on October 15 1997, when it achieved a speed of 763 mph and became the first land vehicle to officially break the sound barrier..
We're celebrating with a weekend of family fun.
Lodging is limited so make your reservations now!
RV dry parking will be available, reserve through Bruno's 775.557.2220.
October 13 – 15, 2017
Celebrating 20 years of the Land Speed Record, set by team Thrust SSC on October 15, 1997
Schedule subject to change, so check back often! 
FRIDAY OCTOBER 13
6:00 pm: MEET THE BRITS! RAVIOLI FEED AND PRESENTATION
Join Richard Noble and his team at Bruno's for a special evening of collective memories along with a special presentation by Team Thrust.
$40 includes appetizers, salad, ravioli and dessert. $20 child's plate.
Funds raised through dinner go to direct support of Race Days. (Thanks for helping us make this happen.)
SATURDAY OCTOBER 14
10:00am: CAR SHOW &  STREET FAIRE
Watertower park and throughout town.
Check out unique artisan crafts and more.  Registration for Show 'n Shine starts at 8am. Contact Dave Carter 775.221.3451 with questions.
11:00am – 1:30pm: HOT DIGGITY DOG! 
Feeling like a weenie? Have your dog, your way, at our hotdog stand.  Community Center.
Proceeds benefit Gerlach K12 School
Noon – 3:00pm: GOLF CART RACES   
Hosted by Flash!
Hang on to your hats, er…spoons,  in this wacky race.  Mutated vehicles and costumes highly encouraged.
It's not what you think!

3:00 – 4:00 pm: OPEN MIC TALENT WITH ELIZABETH CADIGAN
Community Center
4:00 – 8:00 pm: BLUE HAVEN BLUES BAND
Community Center

4:00 – 8:00 pm:  THE GREAT GERLACH CHILI COOK-OFF!  
A Gerlach Tradition!
Bring your best pot of Chili at 3pm. $10 entry, door prizes, $1 raffle / $5 gun raffle.
For more information, donations or to enter contact Schatzi at 253-208-8970 or 775.557.2614.
Community Center.
Proceeds benefit the Gerlach Senior Center and Gerlach Volunteer Fire Department
SUNDAY OCTOBER 15
8:00 – 10:00 am: PANCAKE BREAKFAST
Community Center
Proceeds benefit the Gerlach Volunteer Fire Department
10:30 am: KIDS RACES
Special thanks to Pete Rhode Sound.