Empire Store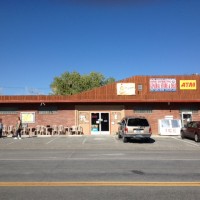 The Empire store first opened its doors in 1957 to help serve the families employed by US Gypsum. Owners George and Nevada Lambert ran the store for more than 30 years. The current owners, Tammy and Dana Sparkes purchased the store in 2010 and remodeled the interior. Shortly after they purchased the store, US Gypsum closed the plant and the adjacent town of Empire vacated, save a few hearty souls who still call Empire home.
The Empire store is open 7 days a week, with hours that vary depending on the season. The store stocks a variety of groceries and other items, and features Gerlach/Empires best deli.
Located in the town of Empire, about 5 miles south of Gerlach, the Empire Store is the only market in any direction for at least 80 miles. Stop in and stock up!
To learn more about the closing of US Gypsum, and it's effect on the local economies of Gerlach and Empire, click here.